This page is hosted by me, Elena Fisher, the Public Face. This page is for you guys to spout out anything you want on the Wiki, you want changed, or anything else you can think of.
Got a problem? Leave it on this page and I will get back to you as fast as I can. And that will be fast.
Just leave it in the comments box...
Problem with one of the links?
Page not working?
Can't access something?
Hate one of the Admin? (Really, you can tell me this and give a reason.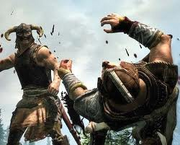 I'll sort them out, I promise. Of course if it's me, tell me why and I'll fix myself!)
Any question you can think of. I will stretch my power to help you.
Elena Fisher, Administer and Public Face
Got an Edit B?... 14:12, March 13, 2012 (UTC)
Ad blocker interference detected!
Wikia is a free-to-use site that makes money from advertising. We have a modified experience for viewers using ad blockers

Wikia is not accessible if you've made further modifications. Remove the custom ad blocker rule(s) and the page will load as expected.